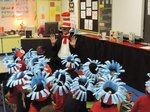 Cat in the Hat and Jackson High School students came to read for Dr. Seuss` birthday-March 2, 2015!!!!
Read, read, read!
You can check your child's AR data online.
Go to
https://hosted309.renlearn.com/78980/HomeConnect.
You will log in just like your child logs in to take a quiz.
You can see the last quiz your child took, points, average percent correct, and average book level.
Dot colors:
Pink 0.1 – 0.4
Pink with a line 0.5 – 0.9
Red 1.0 – 1.4
Red with a line 1.5 – 1.9
Orange 2.0 – 2.4
Orange with a line 2.5 – 2.9
Yellow 3.0 – 3.4
Yellow with a line 3.5 – 3.9
Green 4. 0 – 4.4
Green with a line 4.5 - 4.9
Blue – 5.0 – 5.4
Blue with a line – 5.5 and beyond
++++++++++++++++++++++++++++++++++++++++++++++++++++++++++++++++++++++++++++++++++++++
Earn a Gold Medal!
This is only for first and second graders.
To earn a Gold Medal, the student must
1. have an 85% or higher average percent the 1st, 2nd, 3rd, and 4th 9 weeks
Average percent correct: This is the most important goal for students to achieve because it indicates that students are comprehending what they read. Average percent correct is the average of the scores the student received on the quizzes he or she took during the marking period.
2. reach or exceed the Points Goal all four 9 weeks
Point goals: The number of points students are expected to earn during a particular 9 weeks period
3. meet or exceed your Book Level Goal the 1st, 2nd, 3rd, and 4th 9 weeks.
Average Book Level: the average book level of the books on which the student passed..this is easily met by only taking tests on books that are the student's dot color on their AR card.
Working toward a gold medal is optional. All students who reach their points goal all four 9 weeks will march in the AR parade in May.
Extended Library Hours
Thursdays, 3:30 to 6:00
Great websites:
Alabama Virtual Library-www.avl.lib.al.us
Accelerated Reader Book Finder-www.arbookfind.com
GO AGGIES!